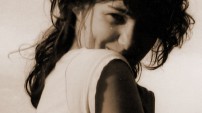 Maria Wesierska – violinist, musician, culture manager, editor.
Born in Lancut, Poland, Ms. Wesierska was brought up in a very artistic atmosphere. In 2000 she graduated with distinction from the Teodor Leszetycki School of Music in Lancut and was invited by Counts Rosa and Stanislaw Potocki to perform in Lancut's Castle – Museum and the famed "Casa Polonia" in Lima, Peru. Ms. Wesierska was a prizewinner at Young Artists Competition on numerous occasions, at the local and national level. After a year in Rzeszow Music School she decided to take a hiatus in her music education to develop her other interests in arts, theatre and the humanities. She had cooperated with "Maska' Theatre and Wanda Siemaszkowa's Theater in Rzeszow, participated in numerous theatre workshops and science Olympiads, co-created international projects and took part in EU's international student exchange programs.
After she graduated with distinction from John Paul II's High School, fascinated by Germanistics, Ms. Wesierska got accepted to the German Philology Faculty at the University of Rzeszow.
In 2007, after a 6-year hiatus from music education, Ms. Wesierska returned to the violin and was accepted to the Music Academy of Bydgoszcz as the highest-ranked candidate, where she had an opportunity to study with Professor Marcin Baranowski. On assistant Jadwiga Stanek's initiative she was appointed the first violinist of string quartet which had later captured 2nd prize in Academy's Chamber Music Competition in Bydgoszcz, 2009 (1st prize not awarded). This performance was enthusiastically received by musicians of the internationally-acclaimed Silesian Quartet who offered their artistic guidance and tutelage.
In 2010 Ms. Wesierska completed her Bachelor's Degree and currently is a Master's candidate at the Fryderyk Chopin's University of Music in Warsaw under Professor Julia Jakimowicz-Jakowicz.
During her musical education Ms. Wesierska had the honor to cooperate with such Professors as Marcin Baranowski, Helen Brunner, Antoni Cofalik, Julia Jakimowicz-Jakowicz, Krzysztof Wegrzyn and Wanda Wilkomirska. She participated in multiple international courses and masterclasses worldwide i. e. Master Classes in Hochschule fur Musik Theater und Medien in Hannover and Universitat Mozarteum in Salzburg.
As a violinist she has cooperated with Vienna Morphing Orchestra, International Symphony Orchestra in Lanciano, Pan – European Philharmonia, Royal Symphony Orchestra of Warsaw, Witold Lutoslawski's Plock Symphony Orchestra, Karol Namyslowski's Symphony Orchestra of Zamosc , Pomeranian Philharmonic of Bydgoszcz, Torun Symphony Orchestra and many others.
In 2011 she completed a Postgraduate Course in Culture Management in EU Structures and Postgraduate Course in Editing at the Institute of Literary Research of the Polish Academy of Science.
top