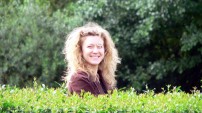 Justyna Rogoznńska-Czezyk – born on 14.02.1975 in Warsaw. She started to learn the violin at the age of seven at the Grazyna Bacewicz State Primary Music School in Warsaw with Prof. Malgorzata Stonkus-Sobolewska. In 1986 she started to attend the Karol Szymanowski State Music School, where she studied with Prof. Elzbieta Kunikowska and Prof. Janusz Szok. Since 1991 she has continued her education at the Henryk Wieniawski Secondary Music School with Prof. Jadwiga Kaliszewska and later with Prof. Mariusz Derewecki. During her studies she perfected her skills with Prof. Jadwiga Kaliszewska and Prof. Marcin Baranowski. At that time she took part in violin competitions and master classes in Poland and abroad. She was concertmaster of the school's symphony orchestra.
In 1999 she took part in the world tour of Kristian Zimmerman's Polish Festival Orchestra. This unique project included performances in most prestigious sites, such as Concertgebouw in Amsterdam, Royal Festival Hall in London, Carnegie Hall in New York, Salle Pleyel in Paris and during the Salzburg Festival.
In 2000 Justyna Rogozinska-Czezyk was awarded the highest scholarship of the McGill University in Montreal, where she took up a two-year postgraduate study with Prof. Jehonatan Berick. She gave recitals at Pollack Hall, performed with Prof. Ani Kavafian, developed her chamber music skills with Prof. Marcel Saint-Cyr.
She gives concerts as a soloist and a chamber musician in Poland and abroad (Sweden, Germany, Italy, Czech Republic, Canada). She cooperated with the Montreal Orchestra of Maximilian Brott. She was concertmaster of the Polska Sinfonietta Orchestra (2004). Since 2003 she has cooperated with the Polish National Opera Orchestra in Warsaw. She also cooperates with the Sinfonia Varsovia Orchestra.
top