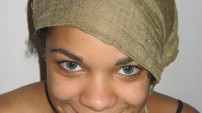 Audrey Massaka was born on 29 September 1989 in Krakow. She started learning to play the violin at the age of seven in Karol Szymanowski School of Music in Torun under Jefim Stinerman. Between 2002 and 2008 she attended the Secondary Music School called "School of Talents" in Poznan and from 2008 to 2010 she studied violin at the Ignacy Jan Paderewski Academy of Music in Poznan with Prof. Marcin Baranowski.
Her achievements include:
prizewinner at Regional Audition for violinist from Schools of Music in Inowroclaw 2001
II prize at VI All-Polish Young Instrumentalists Competition in Bydgoszcz 2001
Semi-fialist of IV All-Polish Violin Competition in memory of Aleksandra Januszajtis in Gdansk 2001
I prize and special award for the best performance at Stanislaw Hajzer J.S. Bach Competition in Zielona Gora 2001
Finalist at III George Philipp Telemann All-Polish Violin Competition in Poznan 2002
III prize at XXIX Stanislaw Hajzer J.S.Bach Competition in Zielona Gora 2003
Distinction at III All-Polish Violin Competition Young Paganini in Legnica 2005
IIIrd prize at VI St. Serwaczynski All-Polish Competition for Young Violinists in Lublin 2005
V prize at 1st All-Polish Uminska Competition for Young Violinists in Poznan 2005
IIIrd prize ex aequo at VI All-Polish Aleksandra Januszajtis Violin Competition in Gdansk 2005
2nd Prize at the All-Polish Groblicz Family Violin Competition Krakow 2007
1st Prize at the 20th Young Musician International Competition – "Citta di Barletta" Italy 2010
She performed in Poland (with Torun Chamber Orchestra and Torun Symphony Orchestra), Sweden, Germany, England and China. She has been perfecting her performance at master classes where she studied under prof. prof. Marcin Baranowski, Tadeusz Gadzina, Marek Szwarc, Vadim Brodski, Gwen Hoebig, Bill van der Sloot, Yi-Wen Jiang, Weigang Li, Lina Yu, Zhao Wei, Tong Weidong, Donald Weilerstein, Andreas Cardenes.
She has been awarded scholarships by the Minster of Culture, The National Fund for Children and The Open Musical Safety Pin Philharmonic.
top