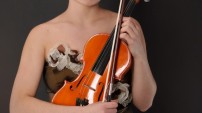 Aleksandra Tomasinska – a violinist, born on 9.09.1984 in Plock.
When she was seven, she started to learn the violin with Bernard Tomasinski at the Karol Szymanowski State Primary and Secondary Music School in Plock, and graduated with honours. Until 2003 she studied at the Henryk Wieniawski Secondary Music School (the so called Talents' School) in Poznan with Prof. Jadwiga Kaliszewska and with Prof. Marcin Baranowski. She graduated from the I. J. Paderewski School of Music in Poznan, where she had studied with the same teachers. In 2008 she was awarded the Erasmus Scholarship and studied with Prof. S. Marcovici in Graz. She participated in master classes with such renowned professors as M. Yashvili, K. Wegrzyn, M. Frischenschlager, M. Lawrynowicz, P. Munteanu.
In addition to her numerous solo achievements (she has won prizes at numerous violin competitions), she develops in the field of chamber music, winning prizes at such chamber music competitions, as the competition in Lodz or in Wroclaw. She also participated in the summer course Accademia Chigiana in Siena, cooperating with Trio di Trieste.
Aleksandra Tomasinska was awarded scholarship of the Ministry of Culture and National Heritage, Polish Children's Fund and the Plock Foundation. Thanks to the sponsorship of Petrochemia Plock S.A. (now ORLEN S.A.), since 1998 she has played an exquisite violin built by Tadeusz Slodyczka.
Aleksandra Tomasinska has performed in Poland and abroad (in Croatia, Italy, Denmark, Great Britain, Germany), with the Plock Symphony Orchestra, Youth Chamber Orchestra of the Academy of Sound in Darmstadt, Mihail Jora State Philharmonic Orchestra from Baku and Torun Symphony Orchestra.
Her repertoire includes the most famous works for violin solo, as well as the canon of chamber music.
PRIZES AND HONOURABLE MENTIONS
1996 – 1st Prize – Regional Auditions of Violin Students in Lodz
2nd Prize – Grazyna Bacewicz National Violin Competition in Wroclaw
1997 – 2nd Prize – National Auditions in Olsztyn
1st Prize – Wielkopolska Performing Competition in Poznan
1st Prize – Aleksandra Januszajtis National Violin Competition in Gdansk
1998 – First Honourable Mention – International Violin Competition in Usti upon Orlica (Czech Republic)
1999 – 2nd Prize – National Chamber Music Competition for Secondary Music Schools in Wroclaw
2001 – 1st Prize and Special Prize – Grazyna Bacewicz 2nd National String Competition of Chamber Music in Lodz
2002 – finalist – 5th S. Serwaczynski National Competition for Young Violinists in Lublin
1st Prize – 28th S. Hajzer Violin Competition of Bach Music in Zielona Gora
2003 – Honourable Mention – National Chamber Music Competition in Wroclaw
1st Prize – 9th G. Bacewicz National Chamber Music Competition in Lodz
Half-finalist of the International Violin Competition in Avignon
2004 – Half-finalist of the International Violin Competition Valsesia-Musica in Varallo (Italy)
3rd Prize – Z. Jahnke National Violin Competition in Poznan
2005 – Half-finalist of the M. Hill International Competition in New Zealand
2007 – Honourable Mention – International Violin Competition – "Torun 2007 Karol Szymanowski in memoriam"
2008 – Half-finalist – International Chamber Music Competition "Premio Borciani" in Reggio Emilia (Italy)
top