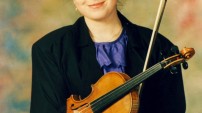 Aleksandra Januszajtis was born on the 7th of December 1967 in Gdańsk to a musical and intellectual family. Already as a child she showed great talents in music, art and science. She started to learn the violin at the age of 5 with Jerzy Hazuka, MA. In 1986 she graduated with honours from the State Secondary Music School in Gdańsk and started her studies at the Poznań Music School with Prof. Jadwiga Kaliszewska and Prof. Marcin Baranowski. She graduated with honours a year earlier than regular students (after four years of studies). Receiving an American scholarship during summer courses in Blue Hill made it possible for her to continue violin studies at the Boston University with Prof. Roman Totenberg. Aleksanda spent a very hard-working year in Boston. She had university classes and lessons with her professor. Moreover, she was member of three orchestras: the University Orchestra, the New England Philharmonic and the Boston Chamber Orchestra. She did not have free time at all, but work gave her satisfaction. She was either concertmaster, first violin player or a soloist. Aleksandra had over a hundred violin works in her repertoire, including 12 concertos. Moreover, she attended sport classes and wrote dozens of detailed letters home. She worked intensively with a great teacher and participated actively in musical life on the highest level and, as a result, her interpretations became more profound and personal. She was a cheerful person, who had many friends, and a hard-working talent, who was respected and admired.
She won 1st Prize at the violin auditions in Malbork and Special Prize at the International Competition for Young Violinists in Lublin in 1979, which opens a long list of her attainments. The following year, she won 2 nd Prize in Malbork and 4th Prize in Lublin. Her first international success was 1st Prize at the Interlochen International Arts Camp Concerto Competition (USA) in 1983. Participation in T. Varga's Competition in Sion (Switzerland) in 1987 brought her a valuable Prize for Paganini's Caprices. In 1989, there followed 2 nd Prize at the Chamber Music Competition in Łódź for F. Schubert's Death and the Maiden Quartet and a very important 2nd Prize at the Z. Jahnke Competition in Poznań. In 1990, Aleksandra won Special Prize for Interpretation of Bach at the T. Wroński Competition in Warsaw. She won the Concerto Competition in Boston in April 1991, where her interpretation of Sibelius's Concerto was received with enthusiasm.
In the end of May 1991, Aleksandra came back to Gdańsk for "holidays", during which she gave numerous concerts with the Lithuanian Chamber Orchestra (Kaunas – 31.05, Gdynia – 06.06 and 09.06, Sopot – 07.06, Gdańsk – 08.06, Toruń – 10.06, and Warsaw – 11.06). She performed Vivaldi's Four Seasons, a work she adored and had written her MA thesis on. After the concert in Warsaw, which took place in the Royal Castle, Jan Popis, the director of the Polish Radio, offered her a studio session and an exquisite recording was made. The last recording in her life.
On the 1st July 1991 she was killed in an accident in the Tatra Mountains. A promising career abruptly ended.
"Polish art of violin suffered a huge loss. A 21-year old girl passed away, who had a great potential!" (Wanda Obniska)
"Aleksandra, or Ola, as everybody called her, inspired her colleagues and teachers alike. Our lessons went so swiftly that I had the impression that they ended the very moment they started: this is because we discussed so many artistic possibilities. Being a real artist, Ola experienced deep emotions during each performance, put all her soul into the interpretation. At the same time, she wanted to perfect every detail, which earned her respect of the musicians" (Roman Totenberg)
"In her music, she showed all her passion, tenderness, sensitivity and modesty, and an incredible talent that will live forever in our hearts and minds" (David Hoose – conductor of the Boston University Orchestra)
"We can still see in front of us this petite figure, with a shock of beautiful red hair, playing music polished to a highest shine" (Krystyna Domarkiene from the Lithuanian Chamber Orchestra)
"She played so beautifully! She was as bright as a sun ray and so full of life! Her presence made everybody joyful" (Nancy Hawkins from the New England Philharmonic Orchestra)
"When I played Sibelius's Concerto, I realised for the first time in my life that I like performing, being the soloist. I forgot about the stress and let myself be carried away by music. I love playing with an orchestra!" (Aleksandra Januszajtis).
top