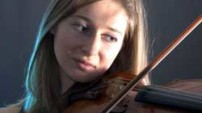 Was born in 1979 in Olsztyn (Poland).
She began playing the violin at the age of four and by the age of eight she was nationall recognized as a child prodigy through appearances on TV and public performances. From the age of 8 she was taught by the legendary Polish violinist and teacher of the Music Academy in Warsaw Professor Zenon Brzewski. From 1992 to 1998 Anna attended the Secondary Music School called "School of Talents" in Poznan studying under Prof. Jadwiga Kaliszewska and Prof. Marcin Baranowski. She graduated with honors.
In 1999 Professor Igor Ozim invited her to study in his class in Bern , where at the age of 21, she received her Artists Diploma from the Hochschule für Musik und Theater. From 2001 she continued her studies at the Music Academy Zürich-Winterthur in the soloists class of Professor Gyorgy Pauk.
In addition, in years 2002-2005 she studied at ´perfectionement´ class of Maestro Jean-Jacques Kantorow at the Conservatoire National Superieur de Musique in Paris .
Throughout the years Anna Reszniak has received many awards from both national and international violin competitions, including the following:
International Kloster Schöntal Competiton(Germany,1995),
National K.Serwaczynski Competition in Lublin(1996),
International Louis Spohr Competition in Weimar(1998),
Shlomo Mintz Competition Sion-Valais(2002),
Duttweiler-Hug Stiftung Wettbewerb in Zurich (2002).
In 1996 Miss Reszniak was also the youngest finalist at the eleventh International H.Wieniawski Violin Competition in Poznan, Poland, winning the 5th prize as well, as special prize for the best performance of K.Szymanowski works. Shortly after that success she was awarded the prestigeous prize of Polish TV "Personality 96".
In March 2000 she won Grand Prix of Rahn-Competition and made her debut appearence in Switzerland performing Khachaturian Concerto conducted by Howard Griffiths in Tonhalle-Zürich.
In 2001 she received a prize from Poznan City for being a young talented person from that region.
In 2003 her duo (violin and cello) won the 1st prize at the chamber music competition of Kiwanis Club in Zurich.
She gave solo concerts with many European orchestras under such conductors as Christoph Mueller, Arie van Beek, Agnieszka Duczmal, Grzegorz Nowak, Mark Kisoczy, Shlomo Mintz, Howard Griffiths and Jean-Jacques Kantorow. In 2005 she performed all twenty-four of Paganini Caprices in one concert, a tour in Switzerland, that included halls like Tonhalle in Zurich, Concert halls of Conservatories in Geneva and Lugano.
Anna also performs as concertmaster with various orchestras in Switzerland and Spain.
In November 2006 she was a leader and soloist of Sinfonica de Galicia conducted by Carlo Rizzi, performing Richard Strauss` ´Ein Heldenleben´and `Rosenkavalier´ Suits in several cities of Spain and Portugal.
Since September 2007 she has been an assistent concertmaster of Orquesta del Palau de les Arts "Reina Sofía" in Valencia, Spain, led by Music Director Lorin Maazel.
top