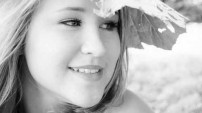 Anna Malesza was born in 1992 in Goleniow. She studies violin at the I. J. Paderewski School of Music in Poznan with Prof. Marcin Baranowski. She studied violin with Jan Romanowski MA at the Henryk Wieniawski Secondary Music School in Poznan, the so called "Talents' School", and graduated with honours in 2011. Anna Malesza was awarded numerous prizes and honourable mentions at music competitions in Poland and abroad:
1st Prize and Special Prize: performance with the Pomorska Philharmonic Orchestra in Bydgoszcz, at the 7th Stanislaw Serwaczynski All-Polish Competition for Young Violinists in Lublin, 2008
2nd Prize at the 2nd H. W. Ernst and K. Szymanowski International Competition in Wroclaw, 2009
GRAND PRIX and Special Prize: performance with the Krakow Philharmonic Orchestra, at the 3rd Groblicz Family All-Polish Violin Competition in Krakow, 2011
2nd Prize at the 12th K. Lipinski and H. Wieniawski International Competition for Young Violinists in Lublin and the following Special Prizes: Recital at the H. Wieniawski Philharmonic House in Lublin, performance with the Dolnoslaska Philharmonic Orchestra in Jelenia Gora and the European Union of Music Competition for Youth (EMCY) Prize: tour around Europe – Lublin 2012
1st Prize and Special Prize: performance at the Wrocław Philharmonic House, 3rd H. W. Ernst and K. Szymanowski International Violin Competition in Wroclaw, 2012
1st Prize and 3 Special Prizes – 7th M. Spisak International Competition in Dabrowa Gornicza, 2013
Grand Prix, Nicolaus Copernicus Astrolabe and 5 Special Prizes – 3rd International Violin Competition in Torun, 2013
The Medal for Young Artists 2014 awarded by Voice of Wielkopolska magazine in recognition of extraordinary achievement in the field of music.
Anna Malesza is also successful in the field of chamber music. Since the beginning of 2006 Anna Malesza has been the leader of the string quartet tutored by Jan Romanowski. This ensemble gave successful concerts in Poland, Germany and the United Kingdom.
Anna Malesza's achievements also include the following: Prize of the Ministry of Art and Culture, scholarship of the Otwarta Filharmonia Agrafki Muzycznej Fund and Prize of the Mayor of Poznan. She also obtained the prestigious title of the Laureate of the Ministry of Art and Culture Scholarship Programme "Young Poland" for superb artistic achievement – Warsaw, 2011. Anna perfected her skills during master classes with such professors as: Marcin Baranowski, Jan Stanienda, Jadwiga Kaliszewska, Aureliusza Goliński, Jan Romanowski and, in 2011, Maxim Vengerov and Bartlomiej Niziol. Anna performed as a soloist with such orchestras as Sudecka Philharmonic in Walbrzych, Pomorska Philharmonic in Bydgoszcz, Krakowska Philharmonic in Krakow, and Gorzowska Philharmonic in Gorzow, and Moscow Symphony Orchestra and Moscow Chamber Orchestra in Moscow. She appeared at the Ignacy Jan Paderewski House during the Talents Week Festival in Tarnow–Kasna Dolna. As a holder of the W. Lutoslawski Association Scholarship, in 2013, Anna participated in the Witold Lutoslawski Festival "Lancuch X". The crowning of this Festival was the performance of Lutoslawski's Preludes and Fugue for 13 solo strings, which also inaugurated the 9th W. Lutoslawski International Cello Competition at the Royal Castle in Warsaw.
top