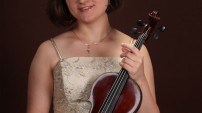 Born in 1993, in Opole. She learned the violin at the Primary State Music School in Lubliniec with Monika Szweda MA and, in the years 2006-2012, at the Secondary State Music School in Opole with Renata Gajownik MA.
She presently studies with Prof. Marcin Baranowski and his assistant Joanna Kreft at the Academy of Music in Poznan.
She won prizes at competitions in Poland and abroad:
7th Prize at the 7th International Competition for Young Talents in Dolny Kubin (Slovakia), 2003
Honourable Mention at the 3rd All-Polish Forum of Young Instrumentalists in Rybnik, 2007
Honourable Mention at the 2nd T. Wronski Violin Competition for Young Soloists in Tomaszow Mazowiecki, 2008
3rd Prize at the International P. Hindemith Competition in Berlin, 2008
3rd Prize at the 7th All-Polish Forum of Young Instrumentalists in Rybnik, 2011
2nd Prize "Grand Prize Virtuoso" London 2015 UK
Maria was awarded scholarship by the Opole Mayor three times. She was also awarded the title "Primus of the Opole Region" by the Marshall of the Opolskie Province. She participates in the All-Polish project Young Polish Philharmonic.
top