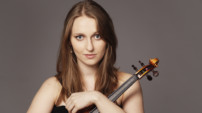 Born on 11 May 1993. She started to learn the violin at the age of 7 at the . I. J. Paderewski Primary and then Secondary Music School in Tarnow with Walenty Kwapniewski MA and Zbigniew Musial. In 2009 she started attending the F. Chopin State Secondary Music School in Krakow, where she studied with Prof. Antoni Cofalik.
She presently studies at the I. J. Paderewski Academy of Music in Poznan with Prof. Marcin Baranowski and his assistant Joanna Kreft.
She was recognised at music competitions in Poland and abroad:
Macroregional Auditions CEA for Secondary School Students of Violin and Viola in Krakow.
3rd Prize at the Stefania Woytowicz All-Polish Competition for Young Instrumentalists in Jaslo, 2011.
Honourable Mention at the 37th Stanislaw Hajzer Regional Competition of Bach Interpretation, Zielona Gora, 2011.
1st Prize at the 18th Festival for Young Instrumentalists in Krakow, 2011.
1st Prize at the 5th International Competition of Contemporary Music for Children and Youth "The Silver Window Pane" in Krakow, 2012.
1st Prize at the All-Polish Competition of Music Interpretation in Krasiczyn, 2012.
1st Prize at the Juliusz Zarebski International Competition in Warsaw, in the category Chamber Ensemble, 2012.
2nd Prize at IX St. Serwaczynski All-Polish Competition for Young Violinists in Lublin 2014 Poland
1st Prize International Tartini Competition Piran 2014 Slovenia
3rd Prize International Zarebski Competition Warsaw 2014 Poland
Grand Prix International Competition "Luigi Zanuccoli " Sogliano al Rubicone 2014 Italy
2nd Prize International Competition "Citta di Barletta" 2015 Italy
1st Prize International Competition Francavilla Fontana 2015 Italy
4th Prize at H.W. Ernst International Violin  Competition Wroclaw, Poland 2016
She was member of the European Youth Orchestra "Young Sound Forum of Central Europe" in Germany, Central European Initiative Youth Orchestra (CEI) and International Youth Chamber Orchestra in Hungary, within the Tarnow Scholarship Scheme.
Twice, as a soloist and chamber musician, she performed with the "Camerata di Cracovia" in France, where she participated in master classes of early music with Jean Pierre Menuge
She participated in Polish and international music courses in Lancut, Zakopane, Krakow, Janowiec and Busko-Zdroj, where she perfected her skills with such teachers, as Prof. M. Baranowski, Prof. J. Stanienda, Prof. P. Radzinski, and Prof. I. Ceglinska.
top