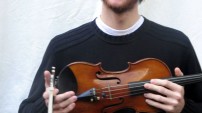 Born in 1987 in Dabrowa Gornicza. He started playing the violin at the age of seven in the state school of Music in Dabrowa Gornicza under Jan Kucmierczyk. In 2000 he passed the exams for the Fryderyk Chopin Secondary state school of Music in Cracow. Later that year he was transfered to the Karol Szymanowski secondary state school of music in Katowice under Marek Kowalski. Since 2003 he has been a student of the Henryk Wieniawski secondary state school of Music so-called School of Talents in Poznan under prof. Marcin Baranowski. In years 2006-2011 he was at the same time student at the Music Academy in Poznan and Music Conservatoire in Amsterdam under Professors Marcin Baranowski and Ilya Grubert. In 2011 he received dyploma with distinction at the Poznan Music Academy.
Achievements:
Distinctions at the 6th and 7th International Competition for Young Violinists in Sosnowiec, 1998/2000
Distinction at the 8th International Competition for Young Violinists in Katowice, 2002
1st prize at the Regional Auditions for Soloists and Chamber Music in Bedzin, 2003
IInd prize at All-Polish Bach Competition in Zielona Gora, 2005
Distinction at All-Polish Young Paganini Competition in Legnica, Poland 2006
He has improved his skills at the Master-Classes in Lancut, Zagan, Krzyzowa, Amsterdam, under professors such as Marcin Baranowski, Ilya Grubert and Sven Arne Tepl. As a leader of a string-quartet he won the 2nd prize at the Slask Audition of Chamber Music in Chorzow as well as played many concerts.
He has performed as a soloist with "Sinfonietta Polonia" in Poland.
He is now a member of Amsterdam Symphony Orchestra (I violin). He has been performing with orchestras in the main concert halls of Holland (Concertgebouw – Amsterdam, Muziekgebouw – Amsterdam, De Doelen – Rotterdam, Rabotheater – Hengelo, Concertzaal – Tilburg, Dr Anton Philipszaal – Den Haag) also in Germany, Switzerland, France and Poland.
He was 3 times awarded a scholarship by the Mayor of the City of Dabrowa Gornicza.
top