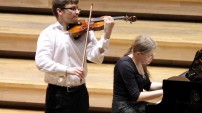 Piotr Kosarga graduated with honours from the I. J. Paderewski School of Music in Poznan, where he had studied violin with Prof. Marcin Baranowski. Since 2002 he has regularly participated in competitions and auditions receiving the following prizes and honourable mentions:
Honourable mention at the 28th, 30th and 32nd Stanislaw Hajzer J. S. Bach All-Polish Competition in Zielona Gora, in the years 2002, 2004, 2006 and 2004
2nd Prize at the 1st and 2nd Tournament for Young Violinists in Nysa in the years 2002 and 2004
1st Prize at the 5th Contest for Young Violinists in Swidnica, 2003
1st Prize at the Wielkopolska Performing Competition in Poznań, 2004
Honourable mention at the 2nd International G. F. Telemann Competition in Poznań, 2005
2nd Prize at the 5th All-Polish Violin Competition "Young Paganini" in Legnica, 2007
3rd Prize at the 2nd Wronski Competition for Young Solo Violinists in Tomaszow Mazowiecki, 2008
Honourable Mention at the All-Polish Auditions of 4 and 5 Grade Students of Secondary Music Schools in Elblag, 2008
2nd Prize at the 5th Forum of Young Instrumentalists in Rybnik, 2009
3rd Prize at the 35th Hajzer J. S. Bach All-Polish Competition in Zielona Gora, 2009
First Absolut Prize at the 21st Young Musician International Competition  "Citta di Barletta" in Barletta, Italy, 2011
4th Prize at the 8th Stanislaw Serwaczynski All-Polish Competition for Young Violinists in Lublin, 2011
Piotr toured the USA, Germany and Poland. He gave many concerts as the soloist of the Symphony Orchestra of the Opole Philharmonic House. He also participated in master classes of J. Kaliszewska, M. Baranowski, W. Wilkomirska, Z. Bron, R. Szreder, G. Michel, K. Jakowicz, J. Gajownik, and many others.
He became an active chamber musician already as a student.Together with the Jahnke String Quartet he performed at the International Chamber Festival Q'artoMondi in Poznan, P and X. Scharwenka Festival in Szamotuly, Summer Night Music in Dziekanka, Warsaw, and at the chamber concert closing the 59th International Chamber Music Campus Weikersheim in Wurzburg (Germany). This ensemble regularly takes part in master classes, to work with renowned ensembles and musicians, such as: Artemis Quartet, Voglers Quartet, CuartetoQuiroga, Heime Muller and Gerhard Schulze.
Piotr participated in youth orchestra projects, such as "I, CultureOrchestra" or "Music in the Death Camps". He also joined the 3rd edition of the SinfoniaVarsovia Academy.
In 2014 PiotrKosarga was awarded scholarship by the Minister of Science and Higher Education. He is also laureate of the Opolskie Province Marshall Prize "Primus in Opolskie" and was awarded scholarship by the Opole Mayor four times.
top