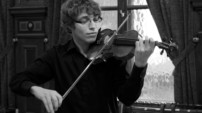 Adam Siebers was born on 15 January 1992 in Toruń. In 1999 he started playing the violin in the School of Music in Toruń under Jefim Stinerman. Currently he is studying under prof. Marcin Baranowski. Adam Siebers has won some prizes and distinctions.
III prize at Wielkoposka Competition in Poznań 2002

I prize at T.Wronski Competition in Kwidzyn 2002

II prize at "Con Variacioni" Competition in Bydgoszcz 2002

II prize at Spring Festival of Chamber Ensembles in Inowroclaw 2002

IV prize and individual distinction at Competition of Chamber Ensembles in Kraków 2003

I prize at Regional Violin Miniatures Competition Toruń 2004

Distinction at II Young Violinists Tournament in Nysa 2004

Town of Toruń`s prize

3rd Prize at VII All-Polish Aleksandra Januszajtis Violin Competition in Gdansk 2007

2nd Prize at the All-Polish Bach Competition in Zielona Gora 2007

2nd Prize at the All-Polish Groblicz Family Violin Competition Krakow 2007

2nd Prize at the All-Polish Violin Competition Young Paganini Legnica, Poland 2008

3rd Prize at All Polish Competition of Chamber Music – Warsaw Poland 2009

3rd Prize at Heinrich Wilhelm Ernst and Karol Szymanowski International Violin Competition Wroclaw 2009 Poland

2nd Prize at the All-Polish audition for Violinists in Warsaw 2010 Poland

2nd Prize at VIII St. Serwaczynski All-Polish Competition for Young Violinists in Lublin 2011 Poland

Adam Siebers  has won the competition for a concertmaster  of Sinfonia Varsovia
Adam Siebers participated in music festivals in Sweden and Russia. He played with Toruń Symphony Orchestra. Adam Siebers has been awarded scholarship by the Marshall of the Kujawsko-Pomorskie Province and by the National Foundation for Children.
top