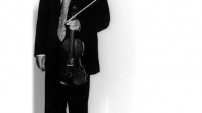 Born in 1973 in Poznan in a family with musical tradition. His father, Aleksander Kasprzak, is a violinist at the State Philharmonic and a teacher at music schools and mother, Barbara Kasprzak, is an academic teacher at Adam Mickiewicz University in Poznan.
Wienczysław Kasprzak`s musical education and career started in Poznan. At the age of seven he was admitted to a primary music school and was taught by M. Wierszczycki. In 1986 he became the student of Prof. Jadwiga Kaliszewska – first at the Secondary Music School and at the Henryk Wieniawski Secondary School in Poznan, a school that has been the cradle of many talented musicians.
As a student he took part in many competitions; he won the competitions organized in Olsztyn (1985) and Malbork (1986) and in 1991 he took the third place in the National Competition held in Elblag.
In 1985 Wienczysław Kasprzak was awarded the scholarship of the National Fund for Children.
Having passed his A levels, Wienczysław Kasprzak started studies with Prof. Jadwiga Kaliszewska and Prof. Marcin Baranowski at the Ignacy Jan Paderewski Academy of Music in Poznan.
Wienczysław Kasprzak has been improving his skills at interpretation courses held every year in Poland and abroad. His masters included Marina Yashvili, Krzysztof Węgrzyn, Yair Kless, Bogodar Kotorovich.
W. Kasprzak has taken part in many violin competitions and festivals where he was awarded many prizes:
1993 – 3rd prize at the Stanisław Serwaczynski Competition in Lublin
1994 – 4th prize at the Zdzisław Jahnke Competition in Poznan
1995 – 5th prize at the Tadeusz Wronski Solo Violin Competition in Warsaw
1995 – 3rd prize at the Kiejstut Bacewicz Chamber Music Competition in Lodz.
While at the Ignacy Jan Paderewski Academy of Music Wienczysław Kasprzak pursued an individual programme of study and was the holder of the Minister of Culture and Arts scholarship for outstanding artistic achievements. He was also awarded a scholarship for young artists by the Poznan artistic community. He was the concertmaster of the Academy`s Symphony Orchestra and its soloist at many concerts. He also played with the orchestras of the Poznan, Kalisz, Koszalin and Zielona Gora Philharmonics.
In recognition for his artistic achievements Wienczysław Kasprzak was awarded special prizes by the Vice-Chancellor of the Ignacy Jan Paderewski Academy of Music.
Having completed his master`s studies at the Ignacy Jan Paderewski Academy of Music in Poznan (diploma with honours), Wienczysław Kasprzak continued studies with Prof. K. Wegrzyn in a violin class at the Hochschule für Musik und Theater Hannover; for two years he was the holder of the scholarship of the Deutscher Akademischer Austauschdienst (DAAD).Wienczysław Kasprzak completed his studies in Hannover with a very good result.
Since 1997 W. Kasprzak has been the first violinist at the Philharmonic in Reutlingen and in 2000 he was offered the first violin position at the State Opera in Hannover.
Wienczysław Kasprzak likes to play chamber music. He performs violin parts in different chamber ensembles – from a duo to an octet. He has founded the "Ensemble Musaget" trio (violin, clarinet and piano), which plays 20th century music – I. Stravinsky, S. Joplin and A. Piazzolla.
top