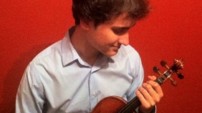 Marek Ulanski was born on 21 July 1995 in Lodz. He started to learn the violin at the age of 7 in the Henryk Wieniawski Primary and Secondary Music School in Lodz, where his teacher was Elzbieta Puchalska MA. In October 2014 he starts his studies at the Feliks Nowowiejski School of Music in Bydgoszcz with Prof. Marcin Baranowski and his assistant Jan Romanowski.
Main achievement:
2003, 2004 – Honourable Mentions at the Competition of Violin Miniatures in Sieradz
2005, 2007 – Honourable Mentions at the 2nd and 3rd Prof. Zenon Ploszaj Regional Competition for Young Violinists in Lodz
2012 r. – 2nd Prize in the category of mixed ensembles (violin, accordion) at the 17th International Accordion Meetings in Sanok
2012 – Honourable Mention in the category of mixed ensembles (violin, accordion) at the 1st All-Polish Accordion Festival "Harmonia Espressiva" in Sochaczew
Marek participated in numerous violin master classes and workshops, where he studied with such professors as Marcin Baranowski, Jan Stanienda, Zakhar Bron, Lukasz Blaszczyk, Bartosz Bryla, Bartlomiej Niziol, Michal Grabarczyk, Monika Urbaniak-Lisik, and Piotr Plawner. In 2013 he joined the Young Polish Philharmonic Orchestra, a pioneer orchestra project conducted by Adam Klocek. With this orchestra Marek performed in several Polish philharmonic houses and toured Switzerland. In 2014 he also qualified to the International Lutoslawski Youth Orchestra.
Na początek