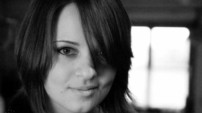 Born on 9 May 1994 in Poznan. She started to learn the violin at the age of seven at the Grazyna Bacewicz Complex of State Music Schools in Koszalin with Ewa Glodowska-Woronin. She attended the Artur Rubinstein State Complex of Music Schools in Bydgoszcz between 2007 and 2011, where her teachers were Prof. Marcin Baranowski and Malgorzata Szadowiak. Presently she studies with Prof. Marcin Baranowski and his assistant Maxima Sitarz at the Academy of Music in Poznan.
She was awarded numerous prizes and honourable mentions at music competitions:
2nd Prize at the Wielkopolska Performing Competition in Poznan 2003
2nd Prize at the 3rd T. Wronski Pomorze Violin Competition in Kwidzyn 2004
2nd Prize at the 3rd All-Polish Violin Meetings in Plock 2004
3rd Prize at the 30th Stanislaw Hajzer J. S. Bach All-Polish Competition in Zielona Gora 2004
1st Prize at the Slavic Music Festival in Tczew in 2006
3rd Prize at the 5th S. Woytowicz All-Polish Competition for Young Instrumentalists in Jaslo 2010
She participated in master classes in Lancut, Busko-Zdroj, Zakopane, and Glucholazy.
top