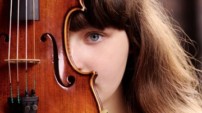 Born in 1995 in Katowice. In 2002 she started her music education in the S. Moniuszko Primary State Music School in Katowice, where her violin teacher was Prof. Urszula Szygulska.
In 2014 she graduated with honours from the K. Szymanowski Secondary State Music School in Katowice, where her violin teacher was Prof. Arkadiusz Kubica. She presently studies violin at the I. J. Paderewski School of Music in Poznan with Prof. Marcin Baranowski and his assistant Joanna Kreft.
She was awarded prizes in numerous music competitions, such as:
4th Violin Auditions "Janko the Musician", Sochaczew 6–7 April 2004, 1st Prize
8th International Bohdan Warchal "Competition "Talents for Europe", Dolny Kubin, 24 April 2004, 7th Prize
1st All-Polish Prof. Zenon Brzewski Competition for Young Violinists, Lancut, 21 May 2007, 3rd Prize
14th Auditions of Violin Students from the Malopolskie Province, Limanowa, 28–30 April 2008, 2nd Prize
6th Festival of Talents and Unusual Skills of Children and Youth from Slaskie Province "Do Not Miss a Talent" in Katowice, 25–27 May 2010, Special Honourable Mention
2nd All-Polish Competition for Young String Instrumentalists, Elblag, 15–17 April 2011, Honourable Mention
7th International Competition of Music Interpretation in Krasiczyn, Przemysl, 25–27 April 2013, Honourable Mention
She participated in numerous music workshops and master classes held in Przemysl, Rycerka Gorna, Warsaw, Pulawy, Busko-Zdroj and Kolobrzeg, with such teachers as Prof. M. Baranowski, Prof. B. Bryla, and Prof. P. Tarcholik.
Na początek